7 Best Places to Shop Local Designer Brands in Johannesburg
Johannesburg is undergoing a major transformation, with new lofts, boutiques and office developments, intermingling with the historic structures and vibrant culture of its original inhabitants. Like Brooklyn and other urban enclaves, modern Jo'burg has become an it-crowd stomping ground. Once regarded as one of the most dangerous places on earth, there's now a coffee shop on every corner and the sides of most buildings are covered with artwork by local artists. For fashion lovers, there are several new, high-concept shops that stock local brands you won't find anywhere else in the world.
Here, a guide to the best places to shop for local designer goods 'the city of gold'.
44 Stanley Ave, Braamfontein Werf, Johannesburg, 2092, South Africa
Dubbed the "anti-mall", 44 Stanley is a multi-use development that boasts lush green courtyards, bubbling fountains and romantic outdoor seating. Inside the '30s-style industrial buildings sit bespoke stores and artisanal restaurants from some of the area's most creative minds. Shops include Lucky Fish, Helen Asrat Atelier, Guillotine Design, and Black Coffee, among others. 
Newbrow 
In Newbrow, a small section of the Maboneng neighborhood, you can find authentic pieces inspired by the neighborhood's industrial roots and artistically-inclined residents. Here, tribal prints, modern cuts, vintage pieces and high-street inspired styles sit side by side.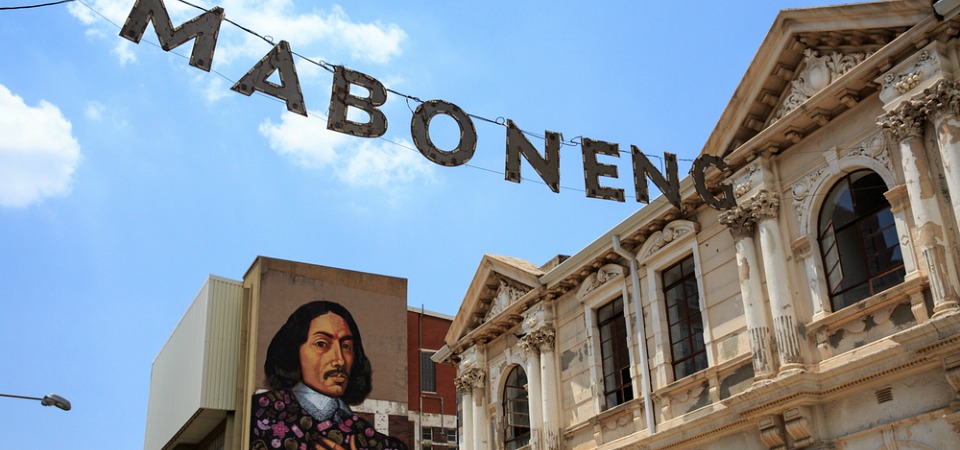 264 Fox St, City and Suburban, Johannesburg, 2000, South Africa
Open every Sunday from 10 am-3 pm, this market specializes in regional foods and local design. Erected in January 2011, the spot has become Johannesburg's top food and design market, drawing in tourists and locals alike since it opened. Design entrepreneurs Jacques van der Watt of fashion label Black Coffee and Bradley Kirshenbaum of Love Jozi created Market on Main to provide space for entrepreneurs to do business. Their goal is to "encourage inner-city lifestyle, provide a relaxed and creative space for makers to trade, and for locals and visitors to spend their weekend leisure time."
21 Albrecht St, Jeppestown, Johannesburg, 2094, South Africa
The first Unknown Union store opened up in the heart of Johannesburg. Now, the brand has locations in Cape Town, New York and at the Museum of African Design. The label's collections are referred to as "chapters", made of indigenous African designs from the Basotho royal groups, Masai clan and more. Founder Jason Storey wants to educate people about African cultures and their influence on the fashion industry at large. Closer to home, he hopes that the shop inspires local "unknown youth" to chase their dreams, instead of settling for a job that they hate. His own path led him to quit his job as a lawyer and open up the popular shop.  
MaXhosa Africa Newton Showroom
100 Carr St, Newtown, Johannesburg, 2113, South Africa
Established in 2012, knitwear brand MaXhosa has become one of the most celebrated labels to come out of South Africa (shop here).  Founded by Laduma Ngxokolo, the brand started as an effort to find knitwear solutions that would be suitable for amakrwala (Xhosa initiates). In his exploration, Laduma went on to create premium knitwear that epitomizes traditional Xhosa aesthetics. 
The Bamboo Centre, Corner Rustenburg Road & Ninth St., Melville, Johannesburg 
"The definition of a convoy is traveling together in mutual support", reads the store's philosophy. Convoy is a collaborative retail space that hosts several South African designers. Each designer brings their own touch to the space, making the process of experiencing the store as a whole a must. Featured designers include Heart & Heritage, A Bird Named Frank, 1971, Hannah Lavery, and Zoe Marie. 
34 Englewood Drive, Saxonwold, Johannesburg, 2196
Marianne Fassler has been a designer for more than 30 years. Operating from Leopard Frock, her creative workshop in Saxonwold, she is open for private appointments and sells select garments. Her work has been described as comfortable yet daring, and suitable for a busy lifestyle. Fassler also makes wedding and special occasion dresses for her clients. 
Writer - Amber Nicole Alston
Amber Nicole Alston is a New York-based beauty and culture writer. Her work frames urban life, fashion, and beauty around specific histories and cultures. In addition to writing, Amber also styles and conceptualizes fashion shoots.